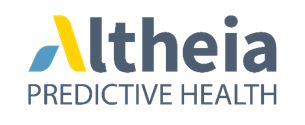 Reduce Healthcare Costs by Managing Future Risks
Altheia leverages the power of big data and artificial intelligence to bring true visibility, leverage, and control over the imminent and longer-term health risks within your member population. 
Altheia, with its Predictive Healthcare Platform, analyzes the broader range of risk factors to deliver the targeted segmentation needed to predict, identify, and provide early treatment for today's costliest chronic conditions – including chronic kidney disease, cardiovascular disease, diabetes, and COPD.
Altheia makes predictive healthcare a reality.