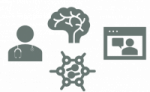 Mental Health, Telemedicine and COVID-19
Where Do They Overlap?
Authored by Ayesha Rajan, Research Analyst at VIKRITI Management Consulting
Introduction
Telemedicine is the use of telecommunication tools to provide services to patients without them coming into an office or hospital. In an age where nearly everything is digital, this is a naturally occurring idea that has many benefits – many patients with chronic conditions can struggle with a task like driving and may not be able to shoulder the burden of transportation services, many others can be immunocompromised to the degree that going to a clinical setting puts them at risk. Going to clinics or urgent care settings and dealing with wait times can also be a struggle for many parents or for those who cannot skip work. Telemedicine is an incredible tool that many have said is not viable but the Covid-19 pandemic has changed that; now, many practitioners are meeting with patients in Zoom conference rooms and that raises the question of what the face of medicine will look like as things begin to go back to normal.
Challenges
The University of Arizona's Telemedicine Program has a lot experience in this area and has identified a few problems – the first issue at hand is how to bill telemedicine. Currently, Medicare only covers telemedicine for patients with conditions that have persisted for one year but may not cover a telemedicine visit for a patient hoping to be seen efficiently for a general wellness check-up. Another issue that telemedicine faces is continuity across the Electronic Health Record systems. This means that the addition of a telemedicine option may not compatible with established workflow and can prevent physicians from keeping detailed records. It can also cause problems if a patient chooses to see a different physician and their original physician does not have enough collected information for the case at hand (Varshneya). Additionally, there can be issues regarding a patient's ability to use a software they are unfamiliar with and concerns over privacy even if a network is highly secure. Finally, a patient's inability to describe a physical issue accurately and a doctor's inability to see things in person means that there is a higher chance of misdiagnosis with telemedicine services.
 Covid-19 Impact
Covid-19 has forced many practitioners to temporarily shift their practices online using video conferencing applications like Zoom. Dr. Joseph Kvedar of Harvard Medical School says that health networks in New York City have gone from 0 to up to 5,5000 online visits per day since the Covid-19 pandemic began (Kaiser Health News). However, many physicians may not see this shift as a temporary one. Medicare consultant Seema Verma has praised telemedicine for its ability to help patients outside of a pandemic by limiting the interaction of someone with flu-like symptoms with others in a waiting room or saving elderly patients a trip that could compromise their immune system. This means that telemedicine will have an important role in medicine long after Covid-19 is only a memory. This is because of the other numerous benefits and, as Dr. Manish Naik (CMO at Austin Regional Clinic) points out, "there are a lot of people who are going to want the telemedicine option to stay" (Kaiser Health News).
In Relation to Mental Health and its Specific Challenges
In our last article we touched on research studies in mental health because the approach to mental health studies is so different in comparison to other medical studies. Similarly, mental health has its own set of challenges and benefits in relation to telemedicine. Mental health issues affected 1 in 5 people before the Covid-19 pandemic began and as we still see most people staying in their homes, we also see a rise in anxiety and stress disorders as a result of self-isolation, uncertainty and fear. While many crisis and chat lines existed before Covid-19, the pandemic has only driven home the need for these services. Telepsychiatry provides the benefit of convenience and ease to those struggling with mental illness and for those who can barely pull themselves out of bed, this is a great way to start looking after your mental health. It also helps prevent stigma and promotes privacy that can be lacking in a physical psychiatrist's office (EVisit). Furthermore, this can be an important breakthrough for many people in rural areas where 65% of people cannot access mental health care even if they need it (CNN). Under the Coronavirus Preparedness and Response Supplemental Act, non-HIPAA compliant videoconferencing has been made allowed for telepsychiatry visits which means patient's do not need to install new software but can proceed using FaceTime or Skype (APA). This increases ease of use, however, there are many other challenges regarding licensure, prescriptions and comfortability. In terms of licensure, CMS is currently waiving the requirement that practitioners be licensed in the state they are providing services but once things begin to go back to normal, it will likely change. This is unfortunate for psychiatric patients who feel comfortable with their doctors but have to move out of state or have to give up their appointments while traveling abroad. Under the Ryan Haight Act, a provider must conduct an in-person examination to establish a doctor-patient relationship before prescribing medications – the DEA has suspended this act as long as we are under an emergency declaration (APA). This, of course, is a much more divisive issue but a conversation worth having as telepsychiatry becomes more mainstream. Finally, the last issue is of preference. Some people love the option of telepsychiatry while others prefer an in-person visit. Telepsychiatry can be really convenient but may take away the ability for a psychiatrist and patient to connect.
Conclusion
Telemedicine is a powerful tool that has several benefits and challenges. While it is not the right option for everyone, it is a great option for some, and the Covid-19 pandemic has proven that the United States has the infrastructure to keep telemedicine as an available option for several patients seeking physical or mental health consultations. The benefits and challenges of telemedicine are mostly unique to an individual patient's needs and preferences when it comes to health care.
Works Cited
Galewitz, Phil. "Telemedicine Surges, Fueled By Coronavirus Fears And Shift In Payment Rules." Kaiser Health News, 27 Mar. 2020, khn.org/news/telemedicine-surges-fueled-by-coronavirus-fears-and-shift-in-payment-rules/.
Larson, Chase. "How Telemedicine Is Changing Mental Health." How Telemedicine Is Changing Mental Health, blog.evisit.com/how-telemedicine-is-changing-mental-health.
Schulte, Fred. "Coronavirus Fuels Explosive Growth In Telehealth ― And Concern About Fraud." Kaiser Health News, 22 Apr. 2020, khn.org/news/coronavirus-fuels-explosive-growth-in-telehealth-%E2%80%95-and-concern-about-fraud/.
"Telepsychiatry and COVID-19." APA Resources on Telepsychiatry and COVID-19, Updated 1 May 2020, www.psychiatry.org/psychiatrists/practice/telepsychiatry/blog/apa-resources-on-telepsychiatry-and-covid-19.
Varshneya, Rahul. "7 Telemedicine Concerns and How to Overcome Them." 7 Telemedicine Concerns and How to Overcome Them, 2018, telemedicine.arizona.edu/blog/7-telemedicine-concerns-and-how-overcome-them.
Willingham, AJ. "There's a Severe Shortage of Mental Health Professionals in Rural Areas . Here's Why That's a Serious Problem." CNN, Cable News Network, 22 June 2018, www.cnn.com/2018/06/20/health/mental-health-rural-areas-issues-trnd/index.html.